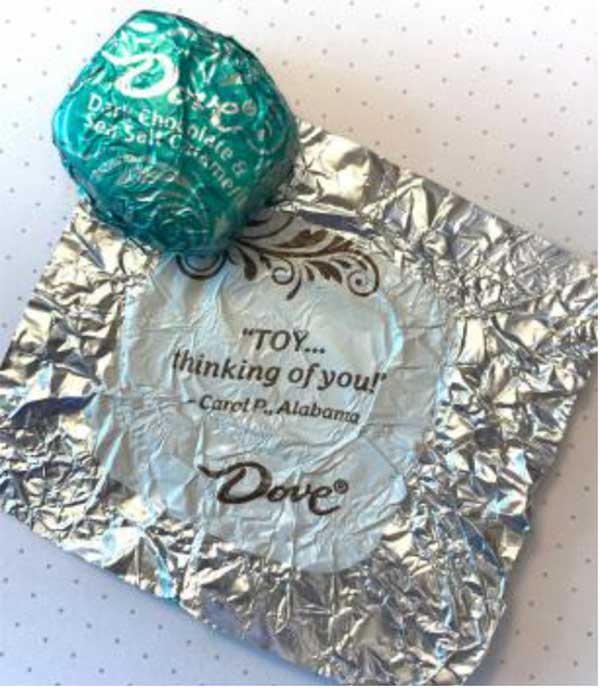 Yes, that's right, that message is for you!
Last week I opened up this little gift and man did I need it. No, I am not a Dove Chocolate sponsor on the side and yes the chocolate was delicious. But it also made me think longer into how that little love note made me feel and I wanted to send you into the weekend with that same smile.
You know those days when you can't catch up and your list just keeps pilling up? I know you do, we all have those days. But when I took a mental break and opened this chocolate I paused. Mind re-set. No problem, I got this. Got organized, comminucated my updates to move things forward, caught myself up. I guess I can attribute part of that jubliance to the salted caramel goodness but in reality sometimes we just have to slow down to speed up.
To be honest, it just reminded me it's a good opportunity to let you know we are always thinking of you. How can we improve? How can we better service your needs? How can we proactively help you? Is there a differnt service you need for your home? What do you need from us?
It's always super helpful to get feedback, positive or negative, so it's that time again… survey time.
Please take a few mintues and let us know what you need more of. This isn't just for our maintenance clients. This can relate to our trades, architects, pre-project team members or friends.
Click here to take the survey.
Your continued support and trust in us is never overlooked.
And I hope you know that we are always working from a place of TOY.
"TOY…thinking of you" 
Carol P. from Alabama
Dove Chocolates
I am always here for you.
Email me at eathorn@fhperry.com with any questions or service requests.