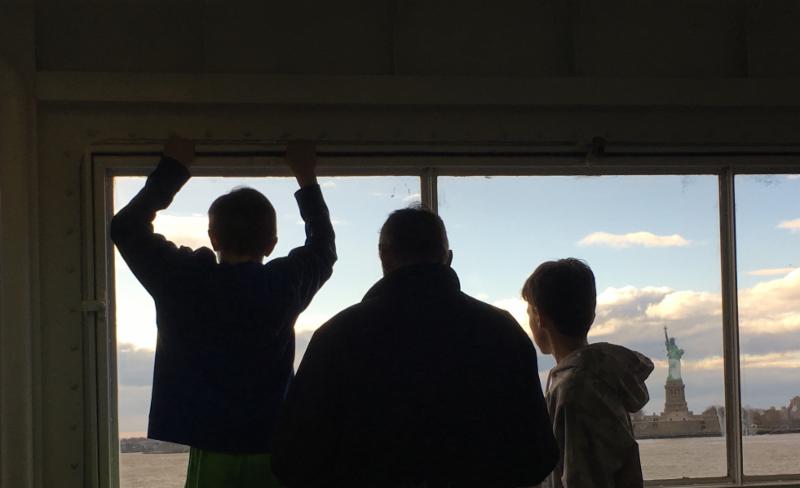 I'm never sure when things happen for a reason and when they just happen. I was contemplating this when I found myself in a southbound car in the snow on April 15th with only a hint of an itinerary, a pre-teen, an eight year old, a couple of overnight bags, my Dad and a week off from work. April vacation. It sneaks up on me every year even though it is always the third week of the fourth month of the year. Always. No childcare. Road Trip! Was this my doing or a twist of fate? Either way, I thought, here we go.
The boys, of course, absolutely considered me to be in complete control of making their lives miserable. Incredible amounts of car time, only to be relieved by a museum tour, a history lesson, or to look at something "beautiful". Where is the pool and the slide and the M-I-C-K-E-Y M-O-U-S-E? That's ok. I knew it wouldn't be the trip of a lifetime until they are looking back on it as their twenty-something selves. Then they might remember sitting in the gallery of the Senate after getting passes from Congressman Kennedy's office or bumping into Boston Police Commissioner Evans in front of the Capital Building and him asking them all about school back home. They might reminisce on how security was handled in every single public building; how we had to go through metal detectors and couldn't get close to the very buildings that define our legacy as Americans. And I bet they will remember the breath of the past on their neck as we found Finley Hutton's picture in Carpenter's Hall in Philadelphia and realized that building may be deeper in our genes then we thought…maybe it will even extend to a sixth generation.
For me it was a letting go. An odd sense of parenting while being parented yet partnering with my Dad like we used to at the Company. It was a reminder of the pace of life outside the four, sometimes restricting or at least limiting, walls of my life back home. There are no subway trains in Hopkinton nor the bustling criss cross of lives that inevitably comes when traveling (either to work or across five states). In my day to day life there is less wonder in the communal anonymity– a line held or crossed depending on the circumstances of needing to share a seat, ask for help, or witness a commotion. The variety breathed into me a sense of diversity and character. And the history reminded me that I come from somewhere and that people can do extraordinary things and can mess up a whole lot along the way. I was inspired by the words of Lincoln and King and Jefferson and Roosevelt. I loved seeing Independence Hall and the White House, the Statue of Liberty and the 9/11 Memorial all in four days. Iconic and settling as to what we have come from and where we still so badly need to go.
As always, return is difficult; this time not for the desire to be in one more hotel or through one more museum but more to be back to such standard and normality, back to the four walls of this life and wondering how one can ever readjust to make them expand out enough to keep the standard safe and sacred but also tickle the edges of perspective, diversity and 'something other' just to keep it all in check. Maybe a little of the "same old" was left behind. Maybe my renewed energy and sense of place and purpose inspires my colleagues. Maybe my heritage gives more credit to the seemingly innate passion I have for craft and integrity in all we do as builders. I am grateful for the love and patience of my kids and of Dad; we created memories that will hang around for a long time just as I had hoped we would.
Bon voyage!
Allison