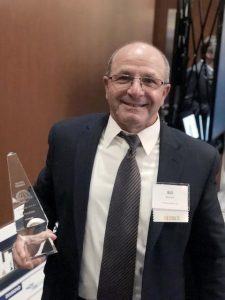 Just in case the news has not spread around (as if) we are SO PROUD to announce that Bill Moretti was awarded BRAGB's Project Manager of the Year Award at the PRISM Award festivities on October 25th.
This is an enormous recognition of a lifetime of achievement.
Bill has known every trade and every vendor quietly gathering familiarity and has contributed significantly to this industry over the years. But he still LEARNS and GROWS as if just beginning his career. And perhaps this doesn't sound like any big thing but if you think about your most favorite project manager— talented, skilled, adored by clients and trades alike—and he not once stops asking "how can I be better"…as a person, as a construction professional and as a teammate? That's the gift.
And of course there are countless tales of weekend emergencies, after hours contributions, energetic inquiry at staff meetings, mentoring the new guys. Bill is the full package and a man like him often goes the unsung hero.
Bill brings his devotion to excellence and perfection to everything and everyone he engages in his life. It is his way of being and reason for being and we are so proud to recognize his contribution to this industry. The PRISM statue is proudly displayed at FHPB HQ.